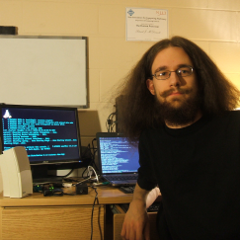 This is my personal Web site, which contains personal and professional information about me, technical guides on GNU/Linux and UNIX, and essays on computing ethics and freedom.
About Me
I am:
A hacker (that is, a playful tinkerer interested in exploring the limits of technology).
A knowledgeable user of GNU/Linux.
A competent software author.
A fan of freely- and semi-freely-licensed heavy metal and rock music.
A student in the 2012 Google Summer of Code program working with the Debian Project.
The leader of a project to develop a fully-free embedded operating system distribution.
Associate member #10830 of the Free Software Foundation.
A recent university graduate with a degree in computer science.
A self-taught student of U.S. and international copyright law and free software licensing.
The former leader of my university's undergraduate GNU/Linux special interest group.
Trained in karate.
Licensed to operate motorboats.
Certified for open water SCUBA diving.
New
To Come
More essays on computing ethics and freedom.
Technical guides on GNU/Linux, especially one related to the boot process (an apparently popular topic with which I'm quite familiar).